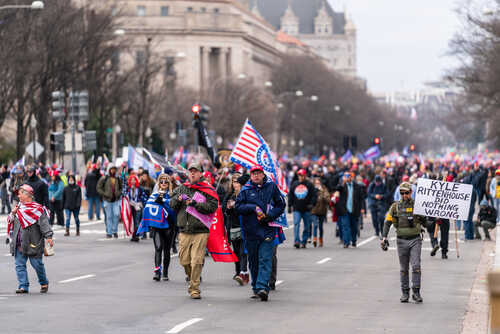 There were 40 undercover informants at least who engaged in various surveillance work during the attacks at the Capitol building on January 6 of 2021, according to Roger Roots, the lawyer for January 6 defendant Dominic Pezzola.
Roots made those comments during a court appearance for his client, who is a member of the Proud Boys, on Wednesday. Pezzola is facing federal charges along with Enrique Tarrio, the former national chairman of the Proud Boys, as well as other members of the group Zachary Rehl, Joseph Biggs and Ethan Nordean.
All are facing charges of conspiring to oppose the presidential transfer power, as well as other related charges. 
According to a court filing Roots made on Wednesday, the federal government admitted there were eight confidential FBI human sources who were placed among other Proud Boys members on January 6, 2021. He claimed that there were at least 19 informants from the Homeland Security Investigations agency who were active at that time.
Roots added there were another 13 officers from the DC Metro Police who were working undercover in plain-clothes that day, working right alongside some of the defendants. He further added that last Friday, federal prosecutors unveiled information about 12 of those officers.
As Roots said:
"Some of these undercover Metro officers marched with the Proud Boys march. And some appear to have played roles of instigators, in that they are seen on body-worn videos chanting 'Go! Go!,' 'Stop the Steal!,' and 'Whose house? Our house!' on January 6. Others generally followed demonstrators toward the Capitol."
He added:
"When added to the 8 FBI CHSs now acknowledged by the prosecutors, this means that there were at least 30 undercover informants or agents doing surveillance among defendants on January 6."
In his filing, Roots requested that the court force the federal government to "reveal all informants, undercover operatives and other confidential human sources relating to the events of January 6." He argued that some of the informants for HIS and the conduct they carried out could "almost certainly" work to help exonerate his client.
He also claimed that if the defense team had known about "the scope and scale" of the undercover operations the government was carrying out on January 6, they would have acted in a "much more aggressive" fashion during the original trial.
Last week, Roos also motioned to try to get permission to subpoena Ray Epps, another rioter on January 6 who is being accused of being an informant for the FBI. To this point, though, Epps has said that he definitely was not working as an informant, and others have also vehemently denied that claim.
Even still, Roots said Epps "is being suspiciously protected from prosecution by the government." 
It's not really clear how details about the federal government having informants during January 6 would have any effect on the outcome of the trial against Pezzola or any of the other defendants.